Stroboscopic Propeller
I built this contraption for installation on the East River waterfront. A user's podium allowed the control of a strobe rate reflected from an aluminum propeller, to manipulate the "stroboscopic effect."
Dumbo Arts Fesitval, 2006.
Desi's Robotic Head
I built this robotic head for the artist Desi Santiago. In addition to sculpting and vacuforming the chrome skull, I designed and fabricated the servo mechanisms to control movement of the eyes and mouth, and programmed a chasing LED tear element.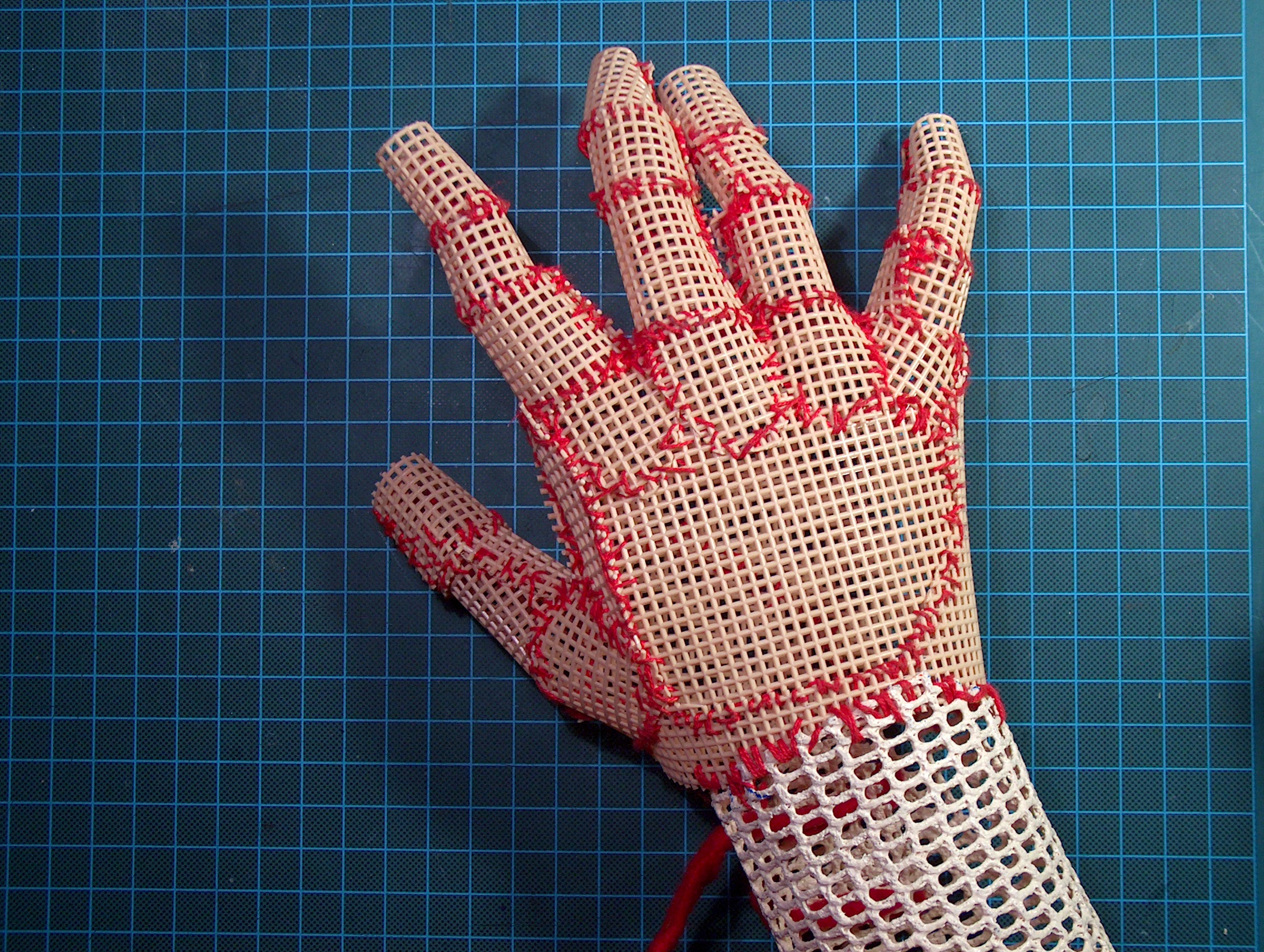 Hand Cage
I built this "cage" for my graduate school portfolio, and have kind of loved it ever since. One size fits me.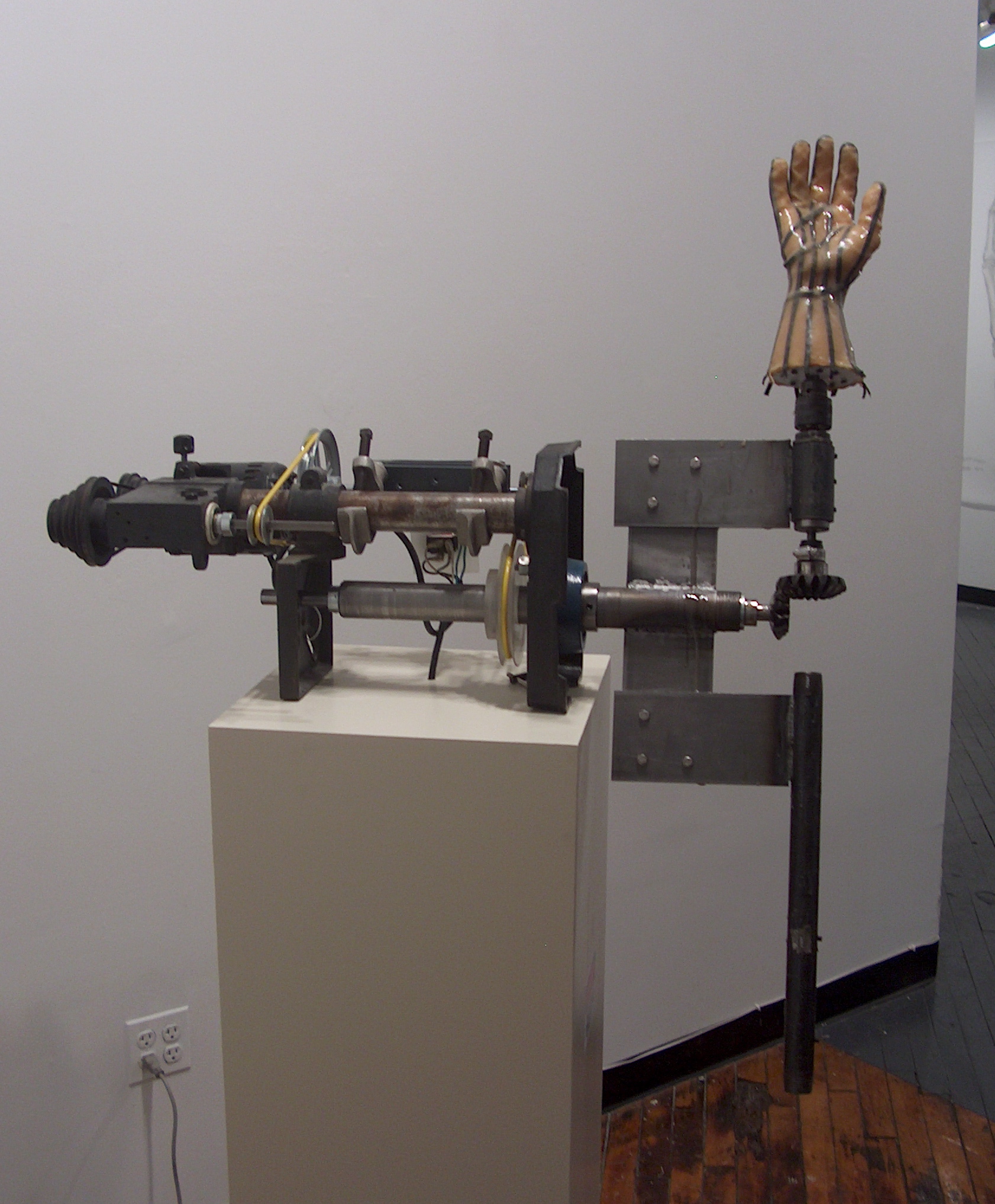 Large Roto Cast Machine
I built this Rotational Casting Machine to coat molds of my hand in rubber. Made from a re-purposed drill press. 2007.
Ligament Experiment
I hand carved the bones of the left hand, and joined them together using 2 part rubber ligaments. Anatomically correct, 2X Scale.
Silicone Ear
Cast with my friend Sam Hill.
Articulation
This is an installation shot of my MFA thesis show, all about the human hand and space suit gloves!
Victor Man's Hairball
I spun and braided human hair to cover a soccer ball, an intensive process but a stunning result. Executed for Gladstone Gallery.
Los Carpinteros "Roller Coaster"
I built the mattress for the artists Los Carpinteros, in collaboration with Forth State Metal, who fabricated the metal framework. Executed for KB Projects via Sean Kelly Gallery.
Los Carpinteros "Roller Coaster"
Desi Santiago Robotic Head
Desi's Eye
Artist Desi Santiago holds a custom servo controlled robotic eye. Executed for Desi.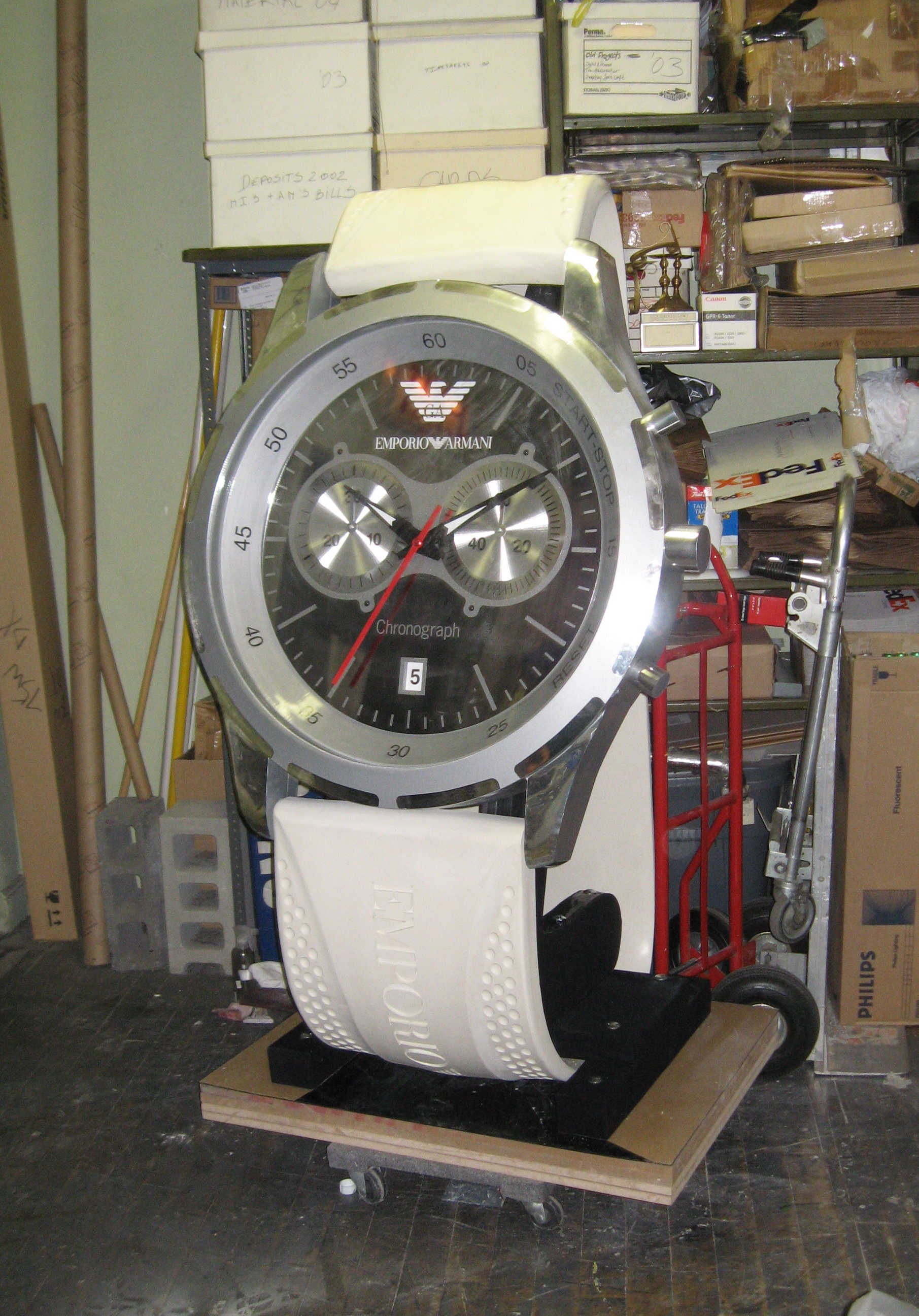 Armani Giant Watch
I headed up a team of artisans at Izquierdo Studio to fabricate several props for the Sacs Fifth Avenue windows in 2008. This watch was for a personal appearance by Mr. Armani.
Armani Giant Sunglasses
Built for Sacs Fifth Avenue, executed for Izquierdo Studio.
The MANTRA
Probably my first 'sculpture', the MANTRA was built in my backyard in Tacoma, Washington, between 1998-2000. Built around a scrap exercise bike, the MANTRA had a variety of user-interactive features.
Kai Altoff Low Rider
I constructed a series of nylon rod objects for the Artist Kai Altoff. This low rider bike was inspired by modified bicycles. Executed for Gladstone Gallery.
NY Lottery Body Cast
Executed for Izquierdo Studio.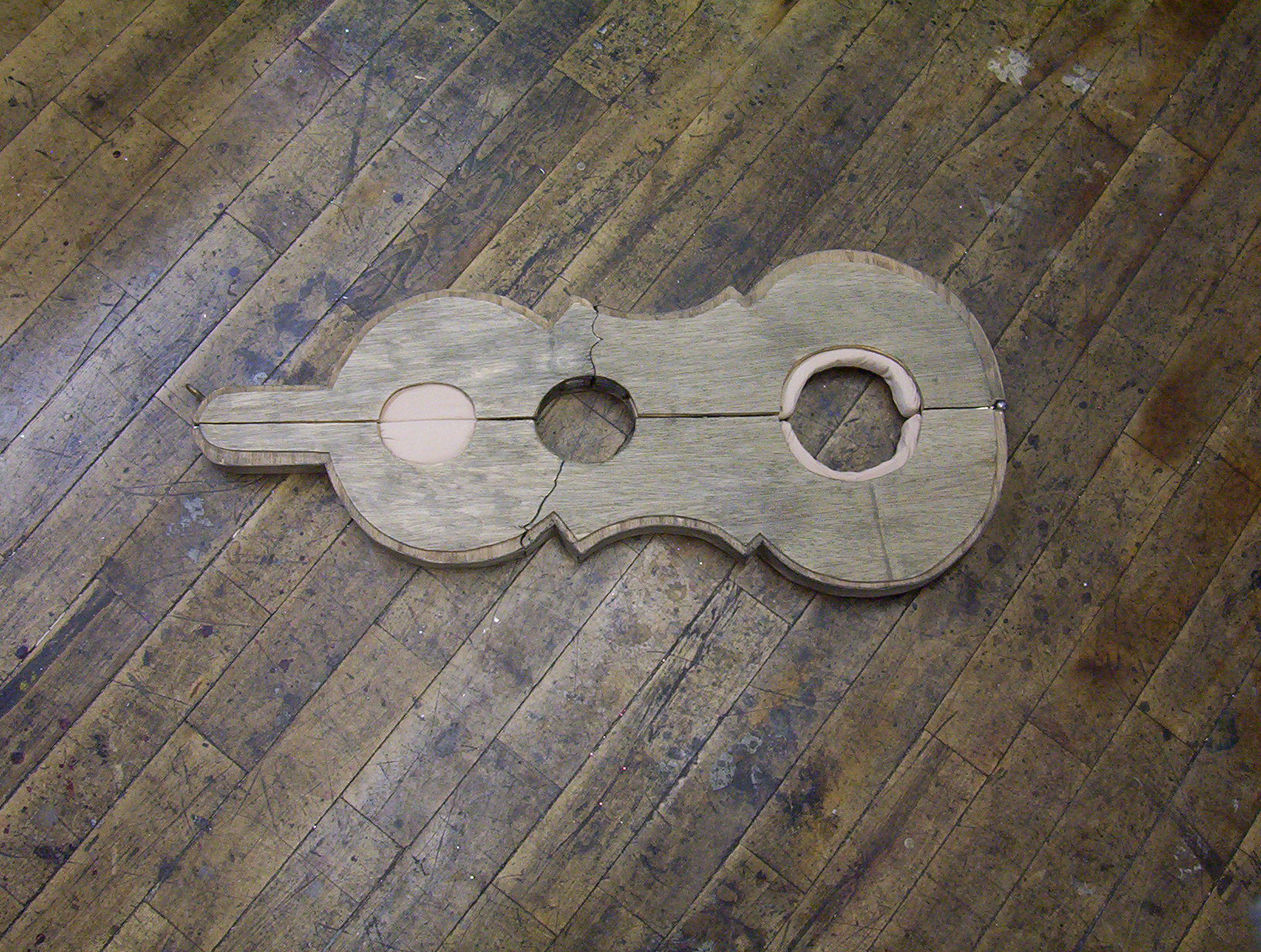 Break Away Stocks
These old-fashioned stocks were designed with magnets to easily separate on stage, for the 'Ghost of Christmas Past' to free himself. Executed for Izquierdo Studio.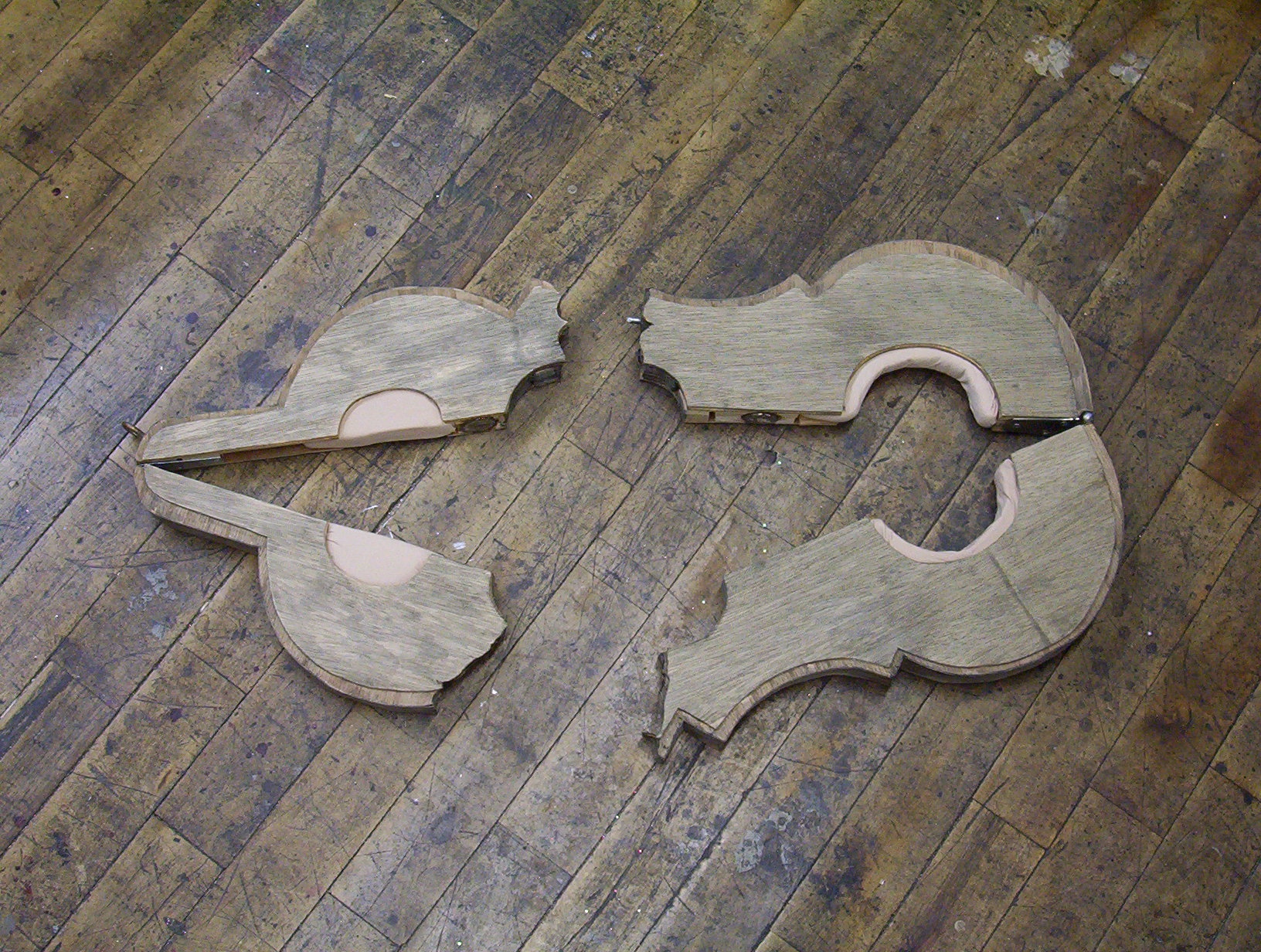 Break Away Stocks, opened
Cast Electronics
I sculpted and cast a large number of electronics imbedded wrist pieces with my colleague Matt Quinn, for technologist Adam Harvey.
Tomaszewski's Space Suit Tent
Built for Performa 2009, this 65 foot tent made from tyvek and canvas was large enough to host a fashion show inside. Executed for Izquierdo Studio, with a team of 7.
Tomaszewski's Space Suit Tent
Tomaszewski's Space Suit Tent
This shot shows the fiberglass framework I designed to support the tent, installed here in Nottingham.
Top-of-the-Rock Bed
I designed this bed to fit inside the freight elevators of Rockefeller Center, yet install in less than an hour. Built with a team of 5 for Izquierdo Studio.

Display of Heads
I cast this collection of heads in silicone molds, and reproduced them in black, white, and clear. 2008.
White Heads
Black Heads
Small Roto-Cast
This miniature rotational casting machine features a rotating electrical connection.
Vibrating Satellite
This solar powered 'satellite' featured vibrating motors; it shimmered in the sun. Built for the Dumbo Arts Festival, 2008.
Spinning Satellite
This solar powered 'satellite' spun from a central motor when powered by the sun.
30 Rock Shoes
Edward Gorey Wall
I painted this wall in the style of Edward Gorey for the Central Park Haloween Ball.
Executed for Grayson/Bakula Design.